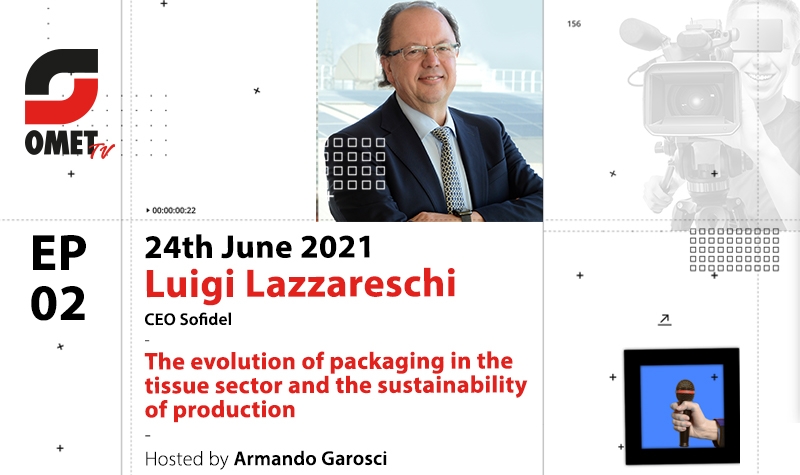 OMET TV, the second episode is about tissue: Luigi Lazzareschi guest
Technology&Innovation
Thursday June 17th, 2021
The second episode of the OMET TV web series will be online on June, 24th. This new episode, dedicated to tissue converting, will feature Luigi Lazzareschi, CEO of Sofidel. See you on OMET social channels (Youtube, LinkedIn and Facebook)!
Sofidel is an Italian company, global leader in the tissue market, with headquarters in Lucca and about 25 plants located in Europe and the United States. It has production sites in 11 European countries and in 6 states of the USA. Today the group is the second European producer of paper for hygienic and domestic use in the tissue sector, and the fifth in the world. Their turnover in 2020 was 2 billion and 173 million euros, with over 6,700 employees and a production capacity of 1 million and 400 thousand tons.
Luigi Lazzareschi, CEO of Sofidel, will be the welcome guest of the second episode of OMET TV, focused on the evolution of packaging in the tissue sector and sustainability in the production process. This episode, the second of the web series conducted by Armando Garosci, will be online starting from 5 pm on June 24th, 2021 on our dedicated website http://omet-tv.omet.com.
OMET TV is a web series of 20 episodes created by OMET. Each episode contains an interview of 15-20 minutes, and is broadcasted every two weeks starting from June, 10th 2021. All episodes remain available for free after the publication on the social channels of OMET (YouTube, LinkedIn and Facebook), as well as on the dedicated website.
Each episode of OMET TV, broadcasted every 2 weeks, focuses on a specific theme. A special guest will comment current topics and trends in the sectors in which OMET is considered an international leader: tissue converting machines and printing machines for labels and packaging.