The RED Line is the innovative tissue converting machine designed by OMET to increase the production capacity and efficiency of the entire converting process. Thanks to a new servo-controlled cutting unit, specifically developed by OMET in order to reduce waste and time, this machine doubles the usual production, thus reaching more than 10.000 napkins per minute.
The folding units of the new RED Line are characterized by their double height, being in fact higher than the traditional ones. The stacks of product, after exiting the folding heads, pass through the new and innovative servo-controlled cutting blade, where they are cut again: this is how the production of the final producct is doubled.
The RED Line is the result of a careful technollogical research with innovative and patented operating principles.
The line is equipped with modular folding plates for ½ or ¼ folded napkins, in order to meet the specifi requests of each customer in terms of configuration and type of product.

The machine can process a wide range of materials: one or multi-ply tissue, paper, non-woven materials, air laid.
The machine is completely automatic and automated and easy to use for the operator, thus also guaranteeing maximum performance, reliability and production efficiency.

Full control of the machine from the HMI, also in remote and tele service.

Simple and intuitive adjustments.
| | |
| --- | --- |
| Working width | Up to 1500 mm [59"] |
| Max. reel diameter | 2000 mm [78"] |
| Raw material | One and multi-ply tissue, paper, non-woven materials, air laid |
| Open format min. | 20 x 20 cm [8" x 8"] |
| Open format max. | 33 x 33 cm [13" x 13"] |
| Mechanical speed | Up to 800 m/min (*the speed varies according to the format) |
| Max. continuous output | Up to 160 packs/min (*the production output varies according to the number of pieces) |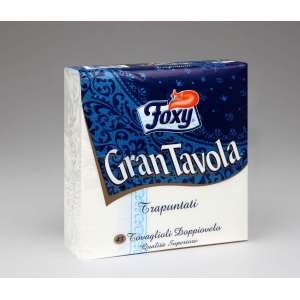 Napkins