The OMET TV840 Line is a high-performance double-lane automatic folding machine for the production of the widest range of napkins. The production performances of the TV840 Line are welll known all over the world, as well as the quality of napkins, with embossing and perfectly aligned folds, and the excellent printing results.
The TV840 Line produces napkins in different formats and with the possibility of realizing different types of folds based on the customer's needs, while the high-speed transfer to the packaging machine takes place in a completely automatic way.
Being composed of modular groups, the TV840 Line can be configured ad hoc to meet the needs of each converter: with simplicity you can change the size, the fold and the printing.
The machine can process a wide range of materials: one or multi-ply tissue, paper, non-woven materials, airlaid.
Continuous technological development, servo motorizations and advanced digital controls for maximum performance, reliability and production efficiency.
Full control of the machine from the HMI, also in remote and tele service.
Completely gearless machine.
Simple and intuitive adjustments.
Total accessibility to the various groups, no physical or mental stress for the operator, simple and intuitive touchscreen interface.
Total safety when using the machine with no need of direct intervention.
| | |
| --- | --- |
| Max. web width | 500 mm (20"), 660 mm (26"), 840 mm (33") |
| Max. reel diameter | 1800 mm (71"), 2000 mm (79"), 2200 mm (87") |
| Flexo printing units | 1 – 9 printing units |
| Raw material | 1-2-3-4-plies tissue, paper, non-woven materials, airlaid |
| Open format min. | 220 x 220 mm (8" x 8") |
| Open format max. | 420 x 420 mm (16" x 16") |
| Mechanical speed | 420 x 420 mm (16" x 16") |
| Max. continuous output | Over 5600 napkins/minute (size 300 mm – 12") |
| Type of fold | ¼, N, M, C, MV, Double fold, Junior |
The technical data contained in this table are not binding. OMET is entitled to change the features of the products without prior notice.
Paper Napkins
Non-woven napkins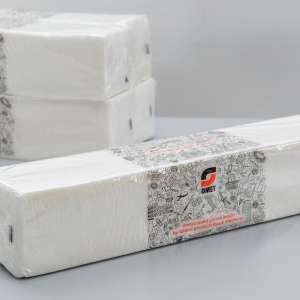 Bulk pack of napkins