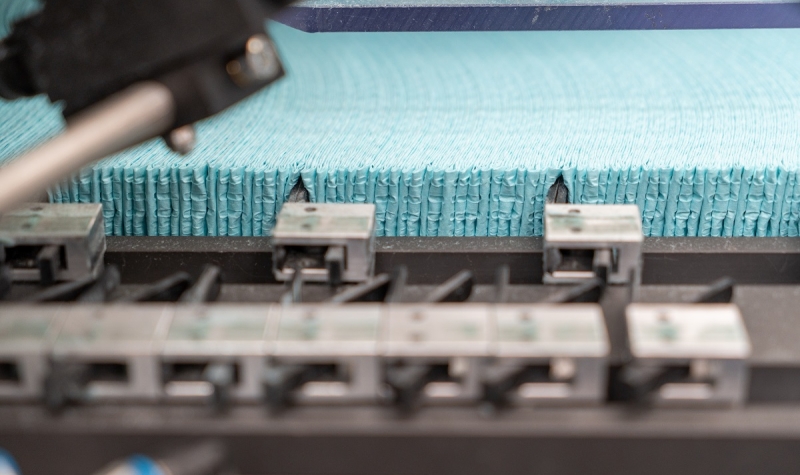 OMET TV503: one line, multiple configuration possibilities
Technology&Innovation
Tuesday January 17th, 2023
The TV503 Line is a modular platform developed to meet the needs of each customer to produce the widest range of folded products. Thanks to its modularity, versatility, and flexibility, the OMET TV503 line can process any type of material, from single-ply to multi-ply tissue up to four, from airlaid to other non-woven materials, as well as to produce with high performance and reliability several types of products, with assorted sizes, neutral / printed or with spread lotions.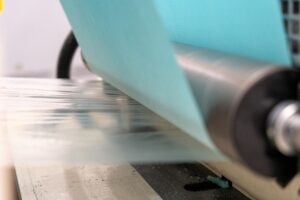 The Factory Acceptance Test of the first OMET TV503 Line configured for the production of dentist bibs has just been successfully completed. In addition to the standard motorized unwinder, this machine is equipped with a second unwinder specifically designed and dedicated to the plastic film. OMET presents this type of product for the first time in the tissue sector, a sign that OMET is always ready to respond to frequent market needs. The line is also equipped with an embosser heated with diathermic oil which is connected to a control unit from which it is possible to easily set the heating temperature for the cylinders. The film is welded with cellulose without the use of any glue, while ensuring the highest quality of adhesion.
The configuration of the TV503 Line to produce dental bibs is optimized for non-woven products. The machine is equipped with a special kit for this type of material and the automatic transfer device has special belts for handling heavy materials.
Thanks to the folding heads with mechanical technology, the TV503 Line can produce dental bibs and can guarantee the highest quality of the finished product.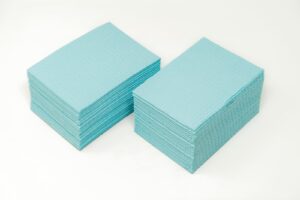 Customers have already shown great satisfaction with the excellent performance and product quality that the TV503 Line is able to guarantee. The requests and interest in this line are constantly growing and constantly developing and this is also thanks to its extremely high modularity, ease of use and high productivity, as well as the ability of the TV503 Line to adapt to various production needs.
OMET lines have been developed to help producers change production on the same machine quickly and easily, drastically reducing downtime and set-up times. This allows us to be very flexible and to offer a very wide range of products to our customers. Thanks to the technical office and the research and development department, OMET can offer the machine suitable for the needs of all manufacturers.