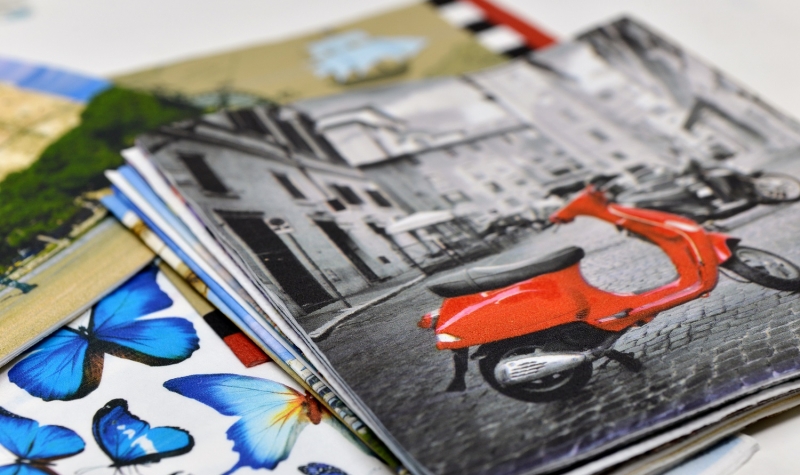 Napkins, the advantages of digital printing: Charles Bourdin (C.G.M.P.) interviewed by OMET TV
Stories of excellence
Tuesday July 27th, 2021
"Digital printing has no limits for personalization, flexibility is total: you can sell even only 50 napkins for a private event and deliver them in a few days. Flexography, on the other hand, needs a minimum order quantity". Charles Bourdin, Project Manager for Sales & Marketing of C.G.M.P, told Armando Garosci about their experience with digital printing on napkins in the fourth episode of OMET TV.
The fourth episode of OMET TV is dedicated to digital printing on tissue products and brings the experience of C.G.M.P., a leader in decorative tableware in France. It was also the first company in Europe to install an OMET press equipped with the Chameleon digital inkjet printing unit.
"We have always printed napkins with flexo technology, and investing in the first digital printing machine, 4-5 years ago, was really a big change – said Charles Bourdin, Project Manager for Sales & Marketing at C.G.M.P. who personally follows the digital printing project -. We never sold directly to restaurants and privates, but only through B2B channels, so it wasn't easy to change the attitude of our customers and convince them about the advantages of digital printing: fast deliveries, very small batches, high quality. However, some have understood its potential and this market is now growing rapidly".
Digital printing allows an extreme customization of paper napkins, for example for conventions, parties, birthdays, promotions, advertising campaigns, daily menus, prize competitions. All these orders can be managed easily and without pre-print costs.
"One of the biggest advantages of digital printing is flexibility. Today we can delivery in 5 working days any batch, with flexo it was almost impossible. Thanks to digital printing, a customer can send us a model today and have napkins for his event tomorrow with an urgent delivery. It's our competitive advantage. We can be closer to customers, providing a service that we were not able to offer before. "
The web series conceived by OMET and led by Armando Garosci, editor i n chief of Largo Consumo magazine, released its fourth episode "Personalized napkins with digital printing" on July, 22nd 2021.
All OMET TV episodes are available for free on OMET social channels and on the dedicated website (http://omet-tv.omet.com).
Watch the interview with Charles Bourdin – OMET TV, Episode 4
https://youtu.be/Pm6ESdFRp9w