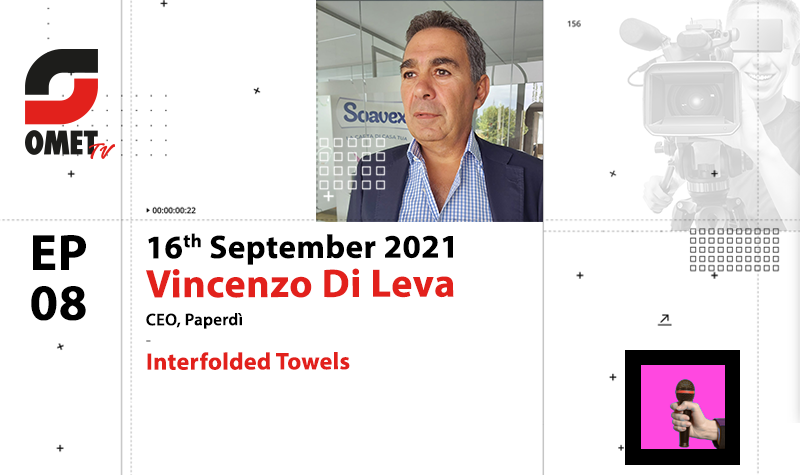 OMET TV: focus on interfolded towels with Vincenzo Di Leva
Technology&Innovation
Thursday September 9th, 2021
The eighth episode of the OMET TV web series will be available starting from September, 16th on OMET social channels (Youtube, Linkedin and Facebook) and will host Vincenzo Di Leva, CEO of Paperdì, an Italian company specialized in the production of interfolded towels for the professional sector.
Paperdì is a family business founded in 1989, now operating with two production plants, the paper mill in Pietramelara and the paper converting company in San Nicola La Strada, both located near Caserta. Today Paperdì has about 130 employees, it's specialized in tissue for professional use and sells in Italy and abroad with its own brand.
It was among the pioneers of interfolded products, starting in 2005 the first production line – today they have five ones – and favouring a breakthrough in quality by bringing to common use the interfolded product which was having a little impact on the market.
The next episode of OMET TV, to be broadcasted at 5 pm on September, 16th 2021, will have as a guest the CEO of Paperdì, Vincenzo Di Leva, talking about interfolded towels and the growth of their market, their advantages compared to roll products and their possible developments for domestic use.
OMET TV is a web series of 20 episodes created by OMET. Each episode, broadcasted every 2 weeks starting from June, 10th 2021, focuses on a specific theme and contains an interview of 15-20 minutes. A special guest will comment current topics and trends in the sectors in which OMET is considered an international leader: tissue converting machines and printing machines for labels and packaging.
All episodes remain available for free after the publication on the social channels of OMET (YouTube, LinkedIn and Facebook), as well as on the dedicated website (http://omet-tv.omet.com).
Watch all OMET TV episodes: http://omet-tv.omet.com