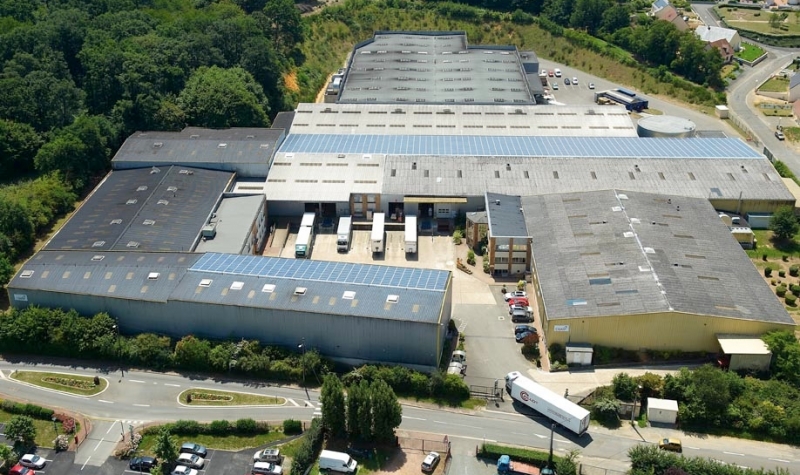 OMET supporting the first steps of Anna purna, part of CGMP Group, France
Global Networking
Thursday June 27th, 2013
Interview with Céline Bourdin-Stepak, President of CGMP and François Bourdin, Managing Director
1) Would you please introduce us briefly to the history of your company?
"CGMP was founded in 1954 by Lucienne and Henri Stepak, Céline Bourdin's parents, when table disposable tissue was nothing more than a good intuition. The company, located in the Paris region, had 6 employees at that time. When the company moved to Tuffé in 1974 it was already leader in the French market and benchmark for quality and creative design. To be first means to be an example for all, that's why we were first in promoting environment-friendliness by researching the proper materials and improving our production processes and products in terms of environmental sustainability. CGMP has now 150 employees, a turnover of 34 million euros, 30,000 square meters of indoor surface and 52 machines in operation. The company converts around 12,000 tons of paper per year."
2) In 2013 you decided to differentiate and specialise production creating a sister company in Annonay, France, am I right?
"Our sister company Anna purna was created in 2013 to take up the low-cost business of CGMP, which remain dedicated to premium products. Anna purna will produce mainly white table disposable products with a specific fold for dispensers. The location of Anna purna, Annonay, south of Lyon, will help us reduce the general costs of transport with respect to the company headquarters in Tuffé."
3) What about the strategic approach of Anna purna?
"We are equipping Anna purna with high-performance machines, favouring fast deliveries and efficiency on the whole production process. We have hired new staff who have been specifically trained to meet the expectations of a fast changing market where efficiency is the main value. We have now 3 machines in place but the number will increase thanks to the installation of the newest FV Line by OMET, whose order has been recently finalised with delivery scheduled during the month of July."
4) What do you do to stay competitive in your specific market and what do customers expect from you?
"When it comes to competition, it is undoubtedly fundamental to preserve what is unique about your production which is, in our case, the wide variety of colours and shapes available in our catalogue which reflects our one-to-one approach with the customers' needs and expectations and has conferred us a leading position in the high-end table tissue market."
5) What are the main trends of today's tissue converting market and how does the current market situation reflects on your marketing strategy?
"We are leader in the French market while the export share is very little because of the high cost of transport compared to the average order volumes. The French marketplace, as practically any developed country market, is in recession mainly because large-scale distribution and the Ho.re.ca (Away from home) business keep losing market share. We are therefore forced to look at new market niches trying to anticipate trends and immediately satisfy new needs. We look at sales through the web with great interest and try to meet the expectations of big hotel chains which are still capable of offering high volume orders. Inside our companies we keep renovating our equipment to ensure it is highly efficient and less costly when it comes to time and material waste. This condition is essential in order to cope with just-in-time deliveries of small quantities."
6) You work up to today with more than 20 machines by OMET. When did such a fecund partnership start?
"The encounter with OMET took place in 1975. I believe we are one of their best and most reliable customers and for sure the biggest in France. We were inspired then by OMET innovative approach and we appreciate the fact that the witty spirit of the beginning has not ceased to enlighten the company. By having OMET as a partner we are sure to count on the best available technology and the most innovative approach. We always find in OMET a good listener and we know our requirements will be taken into consideration until a solution is found."
7) What is your evaluation of the potential of OMET machines for your business?
"We consider OMET machines the best in terms of quality and productivity. We particularly appreciate their efficiency and their ability to cope with requirements such as rapidity of changeover and short set-up times. They are user-friendly machines with a strong possibility of personalization to better suit our peculiar requirements. They help us be fast in servicing customers and we all know how precious rapidity is nowadays."
8) How do you judge OMET and what are the expected developments of your partnership for the future?
"We are an innovative company with very high quality standards. Though, we never stop improving the level of quality of products and service. The possibility to count on high-end technology is strategic in our approach and that's why we partner with OMET since 1975. Their infinite passion for innovation is synonymous of great confidence and ability to look ahead and anticipate needs."