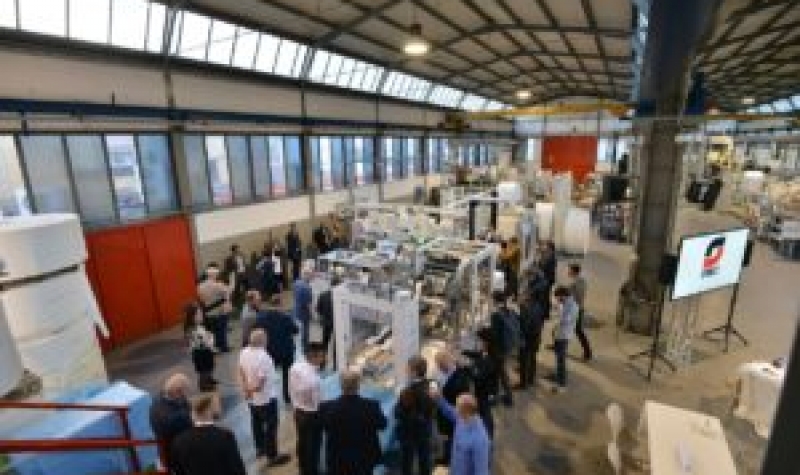 "OMET Folding Experience": the high technology open house for tissue
Global Networking
Tuesday April 2nd, 2019
The "OMET Folding Experience" open house closes with great success, big turnout and memorable demos on the machines: more than one hundred people visited the OMET factories in Lecco and Valmadrera, transferred by shuttle from the Tissue World fair in Milan, taking the opportunity to see the OMET machines for the tissue industry.
OMET, leading player of the Tissue World, registered some machines sold and a big turnout at the booth, where the OMET staff illustrated the wide portfolio for the production and converting for tissue products like napkins, placemats, interfolded and non-interfoded towels and facial tissue. But the greater attraction of the fair was the opportunity to visit the OMET plants in Lecco and Valmadrera by shuttle (less than one hour far from the fair) to see 5 production lines working, each one with its own peculiarity.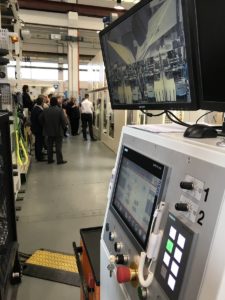 At the Lecco plant, guests were astonished by the high technology of the new TV840 Tronic, high performance automatic line for napkins with 5 printing units allowing rapid job changeover and automatic register set-up: completely regulated from the operator panel, it's the most technological machine on the market. The servomotors and the cameras on the line make the whole production process extremely simple, without need of any manual intervention.
OMET answered to the growing interest in digital technology with the TV503 line equipped with the Chameleon variable data inkjet digital printing unit, a direct-print system able to receive files and print them directly onto the napkins using simple pdf, jpg or other common formats. Guests of the open house "OMET folding experience" received personalized napkins printed with photos taken at their welcome at the factory, and saw several job changes. Simply by uploading digital files to the Chameleon unit software, the line was able to pass in a few seconds from printing photos to full background images with beautiful Italian landscapes, branded images or cartoons.
The TV503 XP, single line for napkins with servo-motorized prints, was equipped with a point-to-point embossing unit printing in 3 colors: it showed a perfect point-to-point embossing at a speed of 550 meters per minute on 290 mm 2-ply napkins.
OMET machines surprised also at the Valmadrera factory, where visitors witnessed record performances such as the 900m/min speed achieved by the OMET TV840 with TEKNA Multipack packaging machine, producing packets of unprinted single-ply napkins, 325mm format. The other TV840 line here in demo showed OMET's ability to satisfy its customers' needs with a new high pack kit for 1/8 folding, unique on the market.
OMET has organized this open house in collaboration with its partners: ACE electrostatic systems for printing, Follmann inks, Multipack wrapping machines, Rossini sleeves, Siemens automation and motion control, Tresu inks feeding systems and blades and anilox cleaning systems.