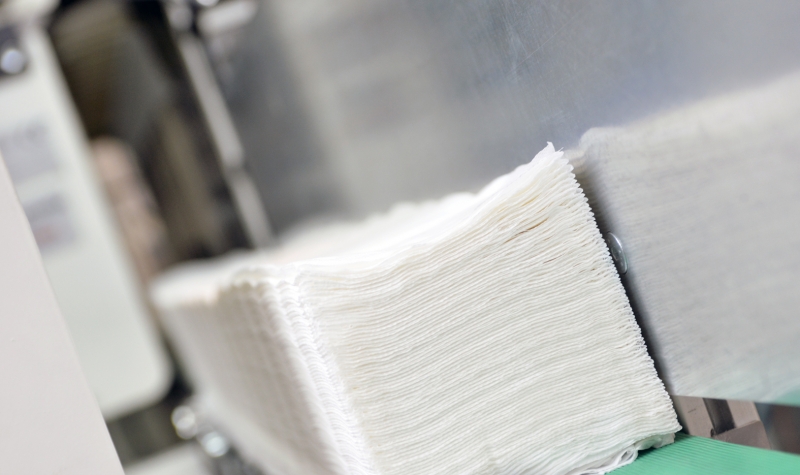 Tissue Converting doesn't stop and looks to the future
Technology&Innovation
Wednesday March 17th, 2021
OMET Tissue Converting Business Unit, after a difficult 2020, in which however it never stopped, continues its path of innovation and looks to the future with new solutions, hoping that the ongoing global crisis can turn into renewal opportunities for the entire country and into new partnerships within the supply chain.
OMET Group, like many other companies, was partially affected by the 2020 health and economic crisis, but its production never stopped thanks to the ability to look ahead and promptly convert some lines. We talked about this and more with Marco Calcagni, OMET Sales and Marketing Director.
The conversion of some lines
Within OMET Tissue Business Unit, whose product portfolio includes four main lines of machines for the automatic production of disposable napkins, paper towels, non-woven products and placemats, the one that suffered the most was the napkin sector, strictly connected with the Ho.re.ca world. "Although the Tissue sector in general has not seen major recessions in 2020 – says Marco Calcagni – the napkin segment has suffered a significant drop in orders especially in the first Covid period. After that, we saw a recovery of the market lead by the companies more inclined to invest. Last year, given the difficulties of the period, we converted, through a particular application, the standard lines for napkin production, developing new equipment and units for non-woven fabric sector and related productions: first of all surgical masks, but also cleaning cloths, dust-catching cloths, floor cloths, wipes for hairdressers, and many other disposable products whose demand significantly increased during the most difficult months. In these sectors we have developed interesting projects and we are carrying them forward, with some deliveries already concluded at important paper groups, and others in progress".
Among the most recent innovations
This isn't the only front on which the company has been moving: OMET has never stopped investing on research.
"We have recently developed a new line, the MF line – explains Calcagni -. It's also for napkins but with a different technology from our standard. We are specialists in mechanical folding, but this machine has been designed with an innovative vacuum/mechanical technology exclusively developed by OMET that allows the maximum flexibility in terms of folding options, from standard ¼ fold, to dispenser napkins, up to the fancier book fold.
This system can be configured in-line with the new Chameleon digital printing unit, which allows customization of folded tissue products without limits and with no need of direct intervention. That means: low ink consumption and change-over time and waste reduced to zero.  This is therefore also a very ecological solution, not needing waste disposal, such as inks or machine cleaning water, like the traditional flexo printing machines. It's a future-oriented and sustainable solution, with the advantages of the digital printing technology. This new machine is called MF Line and is available in single or double lane configuration for small or medium run productions".
And that's not all.
OMET has also developed new groups for high-production machines and is going to present a line for large volumes of napkins: "This machine can process directly the mother reel and the folding head is designed to match the desired napkin size with the available reel width – continues Calcagni -. It is certainly the most productive machine currently on the market and can produce up to 25,000 pieces per minute".
Interfolded and new performances
As for the interfolded sector, that OMET has pushed strong in recent years, the company has increased the productivity of the ASV Line Tornado reaching performances up to 300 meters per minute, thus overcoming the speed of the standard line which had registered performances up to 200 meters per minute.
"The added value of these machines is precisely the speed – explains Calcagni – and therefore the productivity of the machine; if the finished product is sold in large volumes, the faster is the machine the less is the cost per unit, obviously without affecting the quality. Actually, thanks to new embossing systems, we are able to perfectly control the glue dosages and it is even possible to join the veils through water, avoiding any chemical component. Not only! We are able to guarantee high performance even on poorer in quality or recycled tissue papers, that usually require a complex converting process. Thanks to these new embossing groups we have managed to offer interesting performances for the whole market".
Customer care
OMET offers many opportunities to its customers and partners, for example to test special prototypes.
"Before presenting a product on the market – says Calcagni- we always build a small prototype and perform various tests using the customers' materials, to test the solution both at a technical and qualitative level to evaluate the process and the finished product: that's what the customer is going to offer to the market".
The company also provides its partners with remote support and training services such as seminars or specific courses. "We know that our customers need specific training, because of the ongoing generational change. Today machines are equipped with complex electronic devices, consistent with the Industry 4.0 requirements, and therefore operators must have new digital skills to understand the machines' intelligence, to communicate with operational systems, to process statistics, to check the state of wear of mechanical components or engines for scheduled maintenance and so on. They have to be ready to intervene both locally or remotely. If the customer desires, OMET can intervene remotely, by controlling all the technical data of the machines, by guiding any intervention for preventive maintenance and by evaluating if the process is running at full capacity".
OMET offers also individual customizations of the machines: all of them are modular, according to a philosophy that OMET has been pursuing for years. "We don't have a standard machine – continues Calcagni – but machine models that can be configured according to the customer's needs. Among customers, it is quite common to start with the basic model and then go on by adding groups and customizations according to individual requests. The market is rapidly evolving and folded products allow strong customizations, which the customer can request for the most diverse needs".
Research & Development at the basis of innovation
Where does OMET's ability to innovate by adapting itself to different production needs and different markets arise? Definitely in the Research & Development laboratories, where OMET employs numerous engineers, specifically dedicated to the development of new solutions.
"We heavily invest in Research & Development, it's our core business – says our interlocutor -. During this 2021, more innovations will certainly come out, especially regarding interfolded napkins which could open up new markets, new possibilities, new applications, able to give a significant direction to future developments".
But like the R&D departments, the company's production lines also need young and trained personnel, engineers who are able to marry their digital skills, but also a new mentality in step with the times, with the specific experience of a sector – the paper industry – with consolidated characteristics and specific criticalities that can be learned on the field, through years of experience alongside "historical" technicians.
"We and our customers are heavily investing on the generational change and training new professionals able to combine tradition and modernity – explains Calcagni -. The new graduates are well-prepared, but there is a need to bring their academic knowledge into a complex and changing business practice".
The need for new common goals
Finally, OMET and its management cannot miss a look at the sector that crosses the present and reaches the future, wishing to overcome old individualisms, no longer in step with the times.
"I believe that 2020 has been the most difficult year since the company was born – affirms Marco Calcagni in conclusion – and I believe that difficult moments should teach us some lessons.
In my opinion, a learning that we must grasp today is that we must be more united, and create a network. Success and business don't depend only on the right opportunities, but on projects, joint projects. We have to get out of the customer-supplier mentality and enter a partnership mentality, made of collaboration. Because ideas, development, innovations, solutions come only from the collaboration of the entire customer-supplier chain, subcontractors and technology suppliers, all pursuing the same goals. We must try to get out of an opportunistic, individualistic mentality and develop an industrial mentality. But this happens only with a partnership view. If this is the case, if we open up to these collaborations, our country can truly become a beacon, a world leader for paper, and for tissue in particular, which already have a strong technical and production capacity in Italy".
Interview by Paola Tisi for INDUSTRIA DELLA CARTA magazine