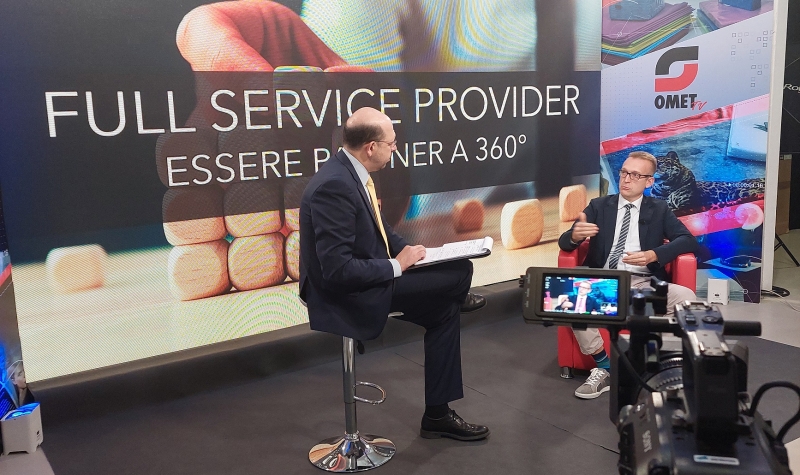 Tissue, a new market approach: OMET TV tells what is a "Full Service Provider"
Technology&Innovation
Tuesday February 15th, 2022
"OMET is well known as a manufacturer of paper folding and converting machines, but today its offer includes elements of the entire production process including wrapping, cartoning and, when necessary, automatic palletizing: one single partner for the whole line". Alberto Colombo, OMET Key Account & Project Manager, speaks to OMET TV about the new approach of the Tissue Division to the market.
The eighteenth episode of OMET TV talks about to the "Full Service Provider" approach, which sees OMET as a 360 ° partner on the market, for all customers' needs. "The concrete advantage is to have a single point of contact with the market, operating with a recognized brand and great technological expertise. Together with the customer, OMET can select specific partners for any part of the machine, and support it in any activity, from the contract to the delivery, from the installation to the start-up of the line".
"Our range can satisfy any need about folded products – says Alberto Colombo -. Each kind of folded product requires a different type of packaging: we can help the right choice among wrapping machines for paper napkins and towels, banding machines for towels and horizontal cartoner for facial tissue products. Then we need a secondary packaging, often a case-packer, horizontal or vertical depending on the customer's final product: a classic american case or a display with lid. As far as the folded product is concerned, there is still a market niche that requires a bagging machine with plastic material. The machine configuration finishes with the automatic palletization in two different ways: cartesian system or robot".
A "Full Service Provider" collects the needs of its customer and guides him in the design, construction and production of the complete line from reel to palletization. OMET has developed its own range of solutions for primary and secondary packaging, perfectly integrated with its production lines, but also offers customized solutions for automatic wrapping and cartoning, in partnership with specialized and selected suppliers.
The eighteenth episode of the web series conceived by OMET and conducted by Armando Garosci was published on 10 February 2022 and is visible for free on the OMET social channels and on the dedicated website (http://omet-tv.omet.com).
Watch the interview with Alberto Colombo – OMET TV, Episode 18
https://youtu.be/7WGriS9te1I