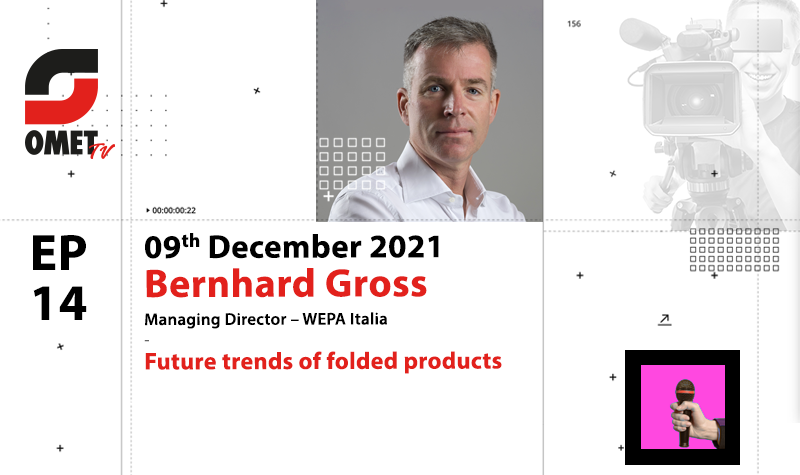 Tissue, OMET TV interviews Bernhard Gross
Technology&Innovation
Thursday December 2nd, 2021
On December, 9 we are going to broadcast online the 14th episode of the OMET TV web series, dedicated to the new trends in tissue sector: the special guest will be Bernhard Gross, Managing Director of WEPA Italia. The episode will be available on OMET social channels (Youtube, LinkedIn and Facebook).
WEPA, founded in 1948, is one of the most important European tissue producers. Since the 1980s, WEPA has been a pioneer in the development of recycled fibers and in the manufacturing processes to convert them into tissue products. WEPA Group, throughout Europe, has a turnover of 1.3 billion euros with around 4,000 employees, while WEPA Italia has a turnover of around 150 million euros and 500 employees.
Bernhard Gross, guest of the next episode of OMET TV, is the Managing Director of WEPA Italia, the Italian division of WEPA, active since 2009 with two production plants, one in Lucca and one in Cassino (Frosinone). WEPA's portfolio of tissue products ranges from toilet paper to kitchen rolls, from large industrial cleaning rolls to folded products such as handkerchiefs, facials, and of course napkins. This episode of OMET TV will focus on tissue folded sector, its current and future trends, and will be visible starting from 5 pm of December, 9th 2021.
OMET TV is a web series of 20 episodes created by OMET. Each episode contains an interview of 15-20 minutes, and is broadcasted every two weeks starting from June, 10th 2021. All episodes remain available for free after the publication on the social channels of OMET (YouTube, LinkedIn and Facebook), as well as on the dedicated website (http://omet-tv.omet.com).