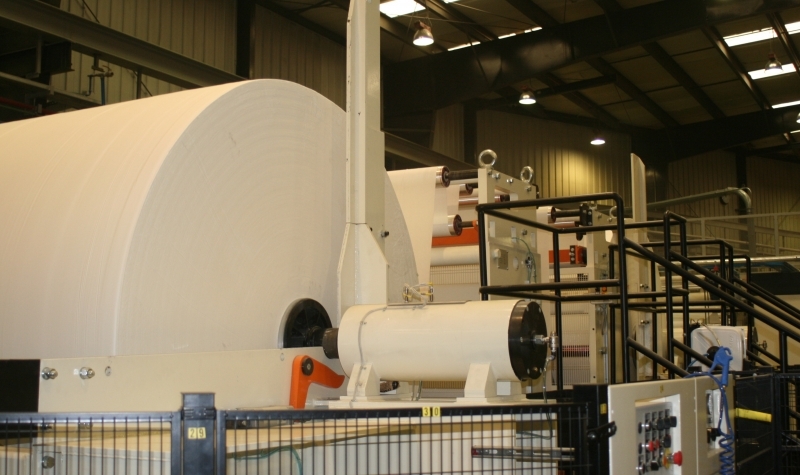 The challenge of Gomà-Camps in tissue and recycling gives good results
Stories of excellence
Tuesday October 9th, 2012
by Sophie Ozanne, Chief Editor of EL PAPEL Magazine, Group ENP
The company Gomà-Camps of La Riba, Alt Camp, in the Spanish province of Tarragona, celebrated in 2008 the 250th anniversary since its foundation. This family company specialized very early in tissue and more specifically in hygiene and cleaning products and products for the table, betting on recycled tissue. The Editor of El Papel visited the factory in La Riba, where tissue is produced, and the converting plant of Vilaverd.
Until a few decades ago, Gomà-Camps produced various types of paper, such as thin paper and paper for thin packaging. Already in the sixties, however, the company opted for change: through successful investments the company managed to move part of production in Valls and tissue became the final choice. Today, the total production is 50% of recycled tissue and the other half is of 100% virgin pulp. The company owns several certifications: ISO 9001, ISO 14001, European Eco-label, PEFC, Chain of custody, Renewable energy certificate. All certifications that provide the products Gomà-Camps significant added value.
The presence of Gomà-Camps in the recycling industry becomes imperative in its natural target market: France and the Iberian Peninsula. In Spain, the care for environment is growing, while in France it is already consolidated. "Do not offer recycled products in the neighboring country could be a decisive factor at the time of sale. In Spain, however, this is still not a limit, "says Maties Gomà-Camps. The only Spanish regions where there is a demand for recycled products are Catalonia, Navarra and the Basque Country.
If we compare the costs of production of the two product ranges, the differences are few. The reason is that the efficiency of virgin pulp is of 93-94%, while the recycled paper is between 55 and 60%. In addition, the price of recycled paper has suffered a substantial increase due to the problems of supply of the raw material. As for the final price, recycled products are sold almost the same price to the customer. Nevertheless, Gomà-Camps considers the recycled an "interestig niche market", and the objective is to increase its production share. At the moment, all the company's products are realized both in virgin pulp and recycled material.
On the market there are other manufacturers that offer a similar product but not with the same level of quality, in the words of Maties Gomà-Camps. The tissue production of Gomà-Camps is of superior quality and finds great success in the market, even if it is not the quality that makes the difference. "It is impossible to be the best for price, quality and service. We decided to focus on service, "says Maties Gomà-Camps. Over the past few years we have created an excellent sales team. The company slogan is: "A professional service for professionals." Indeed, Gomà-Camps operates exclusively in the professional market, also known as AfH: away from home (away from home). Its customers are institutions, restaurants, hotel chains and cleaning companies. (…)
A wide range of products
The products of Gomà-Camps belong to two different market sectors: hygiene and cleaning – toilet paper, handkerchiefs, industrial cellulose, etc., – products that must correspond to the characteristics defined by the customer. The second sector is the table, with products like table cloths and napkins, simple, white and colored. The products for the table are not produced in high volumes but include the added value of creativity and distinctiveness. Gomà-Camps has an internal graphic design department, which creates the designs dictated by customers, trends and seasons. The company has just created the brand "GC Class" for table cloths and colored napkins. Every season has its own specific decoration: summer, Christmas, fall, etc.
For the company, the competition is stronger on products made of virgin pulp where competitors are companies such as Kimberly Clark and SCA. "Concerning classical products, multinational corporations dictate the trends. We are more flexible than large companies, but we do not have their resources. We are sure that it is on recycled products that we can take the lead. (…)
Modern equipment that meets the needs of quality and productivity
The company manufactures on two production lines 60,000 tons per year of tissue, 30,000 tons per year of recycled tissue Ecolabel and approximately 30,000 tons per year of tissue from 100% virgin pulp (80% composed of trees of eucalyptus of Spanish origin and 20% of pine trees coming from the Nordic countries and Chile). The raw material for recycled products comes from Spain, France and Portugal. The geographical situation of the factory located in Riba is good, close to the major ports of Barcelona, Tarragona and Valencia and also well connected by highway and train for goods arriving by truck or rail. (…)
The investment as the only possible choice
"Investing is the only way to go," acknowledges Maties Gomà-Camps. We need to think long-term and constantly renew the fleet to remain competitive. Today more than ever, as the economic situation is unfavorable. (…)
In the converting facility is already operating a modern production line of towels purchased in 2012 and whose investment is about 2 million. The AS Line, produced by the Italian company OMET, is completely automatic and allows to produce, starting from a reel of 2,850 mm of width, towels with Z-folding, V or W, interspersed between them to be inserted in suitable dispenser. The machine incorporates an embossing unit with micro-decoration adhesive lamination. At the end of the line there are a machine for packaging, packing, and a robot for palletizing. The advantages of the machine are many: it is totally integrated, provides high production capacity (up to 15,000 towels per minute), and is fully automated so that only one operator is needed. The machine is very powerful and flexible and represents a major advancement for the factory of Gomà-Camps dedicated to converting. (…)