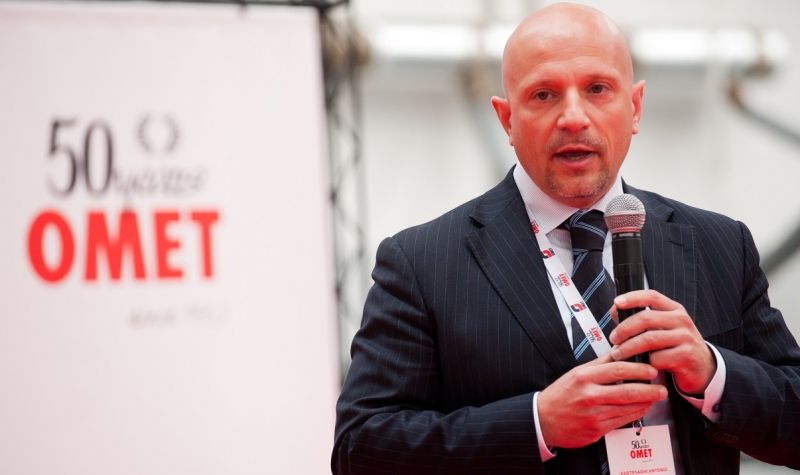 Technology, product and people: this way OMET invests in the future
Stories of excellence
Monday January 27th, 2020
At the beginning of 2020, Antonio Bartesaghi, OMET's CEO, makes a wide-ranging thought about the future of the company and the market.
The OMET's growth path in terms of turnover and number of installations, ever-increasing in recent years, had a new confirmation in 2019 despite an unfavorable international economic situation. We are proud of this result, that demonstrates once again that our company and our products are more and more appreciated by the market. Anyway, in the meantime we continue to work for anticipating the needs of our customers, looking for greater efficiency in processes and more ease of use in machines: these trends drive OMET's innovation, always mindful to the needs of the market.
We invest both internally and in collaboration with our partners to carry out testing projects on machines and equipment to raise printing quality on all kinds of support, improving setup times and reducing waste. We have been the forerunners in enhancing the production process, having developed almost 10 years ago some technological innovations decisive for increasing production efficiency and reducing waste, in terms of materials and time.
OMET has created a trend, followed then by all the competitors, and has defined the actual quality standards of the labels and packaging printing market.
Today we continue the optimization and implementation of the production process paying a special attention to the environment – as we highlighted at Labelexpo Europe – that has always represented a fundamental value for OMET. Supports to be used in the future will be increasingly complex to print because the market is going towards new, less resistant materials with reduced thickness. The decline of plastic materials, driven by the global campaign for the protection of the planet endorsed by governments and institutions, will inevitably lead to the diffusion of recycled and eco-sustainable supports, more difficult to manage and print. OMET is already testing compostable packaging materials, made by bio-resins. OMET is at the forefront of change, and focuses on technology and research to guarantee the excellence of product and service that has always distinguished its brand.
But OMET's growth is not only market driven: our continuous evolution is possible because the company never forgets its staff and its social responsibility. OMET has always invested on young people and qualified personnel, paying great attention to training. This attitude comes from the conviction that the products we offer are the result of the work done in our offices and plants: it's therefore essential to enhance our collaborators, their work and their professional career.
We are proud of being a point of reference on matters like welfare, training and support to schools, especially for technical education. We invest in particular on professional training provided by technical and scientific institutes, with the aim to bring more technology into their laboratories and move the teaching quality closer to the needs of the companies. Every company owes its success to the opportunity of finding qualified staff to ensure future growth.
We work for keeping alive, in our company, the commitment to improve constantly and to go beyond our limits, in order to generate value. In our offices the key word is always "aim high".