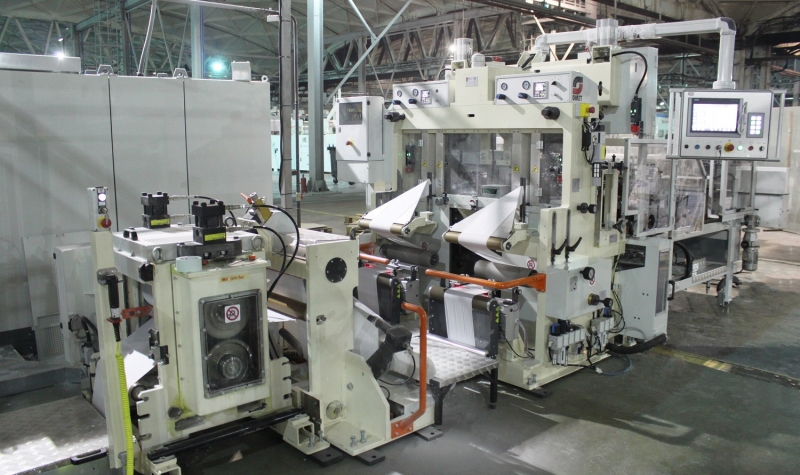 Russia, a new TV840.5 for Syassky PPM
Stories of excellence
Thursday December 16th, 2021
Syassky PPM, one of the leading pioneers and the most important modern paper mills in Russia, has bought the new OMET line which is a TV840.5 high performance solution for the napkin production with a reel width of 500 mm.
The new OMET line will allow to increase the production of traditional ¼-fold napkins at Syassky PPM by 165 mil pcs per months. It will definitely contribute to the strengthening of the mill position in the consumer market of tissue products.
This TV840.5 line has been installed remotely, particularly due to the sufficient experience and great competence of the Syassky PPM technicians and advanced connectivity systems adopted to guarantee a complete monitoring of the line during the setup. The effective collaboration between the experienced OMET staff and the Syassky PPM technicians has led to a successful result.
Remote installations are now possible for any OMET machine due to the modularity of OMET lines, their easy-to-use, advanced connectivity, and the new remote assistance system NOVA. Due to the Covid-19 restrictions since 2020 OMET has carried out several remote installations highly appreciated by customers.
OMET works continuously to provide its customers with the high quality machines and excellent customer service supporting them during the time before sale and after commissioning.
Syassky Pulp and Paper Mill, one of Russia's leading manufacturers of tissue paper products under the brands "Myagkiy Znak" and "KLEO" as well as pulp, base paper and other types of industrial products, was put into operation in 1928. It is successfully developing, investing in the modernization of its own production and applied technologies, aiming to produce high-quality products.