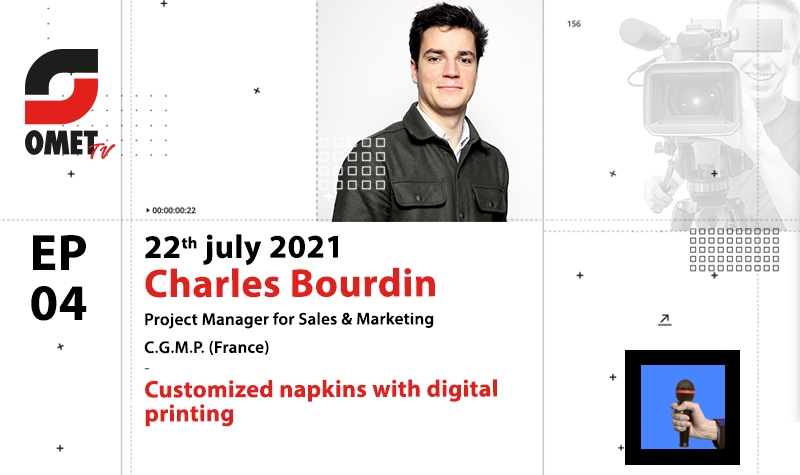 OMET TV, the 4th episode dedicated to digital printing on napkins
Technology&Innovation
Thursday July 15th, 2021
This new OMET TV episode will feature Charles Bourdin, Project Manager for Sales & Marketing of C.G.M.P., and will deal with personalized digitally printed napkins. The 4th episode of the web series will be visible starting from July 22nd on OMET's social channels (Youtube, LinkedIn and Facebook).
Digital printing allows the personalization of napkins with no limits. Small runs and four-color printing can be performed just-in-time, without need of pre-printing nor printing plates. It is possible to customize napkins, placemats, paper towels by printing variable data such as images, texts, serial numbers, QR or bar codes. The digital printing system can also use certified inks for food use.
The next episode of OMET TV will host Charles Bourdin, Project Manager for Sales & Marketing of CGMP, a company with 60 years of experience, renowned in France for tableware and decoration. Their napkins are well known for originality, creativity and variety. This interview will be the heart of the fourth episode of the web series led by Armando Garosci, available from 5 pm on July 22nd, 2021.
OMET TV is a web series of 20 episodes created by OMET. Each episode contains an interview of 15-20 minutes, and is broadcasted every two weeks starting from June, 10th 2021.
All episodes remain available for free after the publication on the social channels of OMET (YouTube, LinkedIn and Facebook), as well as on the dedicated website (http://omet-tv.omet.com).
Each episode of OMET TV, broadcasted every 2 weeks, focuses on a specific theme. A special guest will comment current topics and trends in the sectors in which OMET is considered an international leader: tissue converting machines and printing machines for labels and packaging.
Watch all OMET TV episodes: http://omet-tv.omet.com