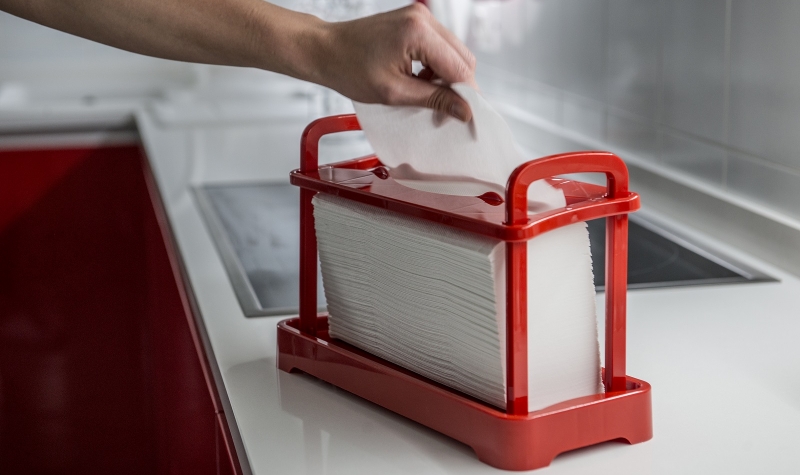 More hygiene and less waste: OMET TV focuses on the advantages of interfolded products
Technology&Innovation
Tuesday September 21st, 2021
"Interfolded towels are measured, managed without waste, and particularly suitable for places where attention to the environment and cleanliness is required". Vincenzo Di Leva, CEO of Paperdì, speaks to OMET TV microphones about the exponential growth of interfolded products in the professional sector, and future market demand for the domestic sector.
The 8th episode of the OMET TV web series hosted Vincenzo Di Leva, CEO of Paperdì, a family business located in Southern Italy with over 130 employees and a specialized in interfolded products for the professional sector. The episode focused on the growth of this type of product, which allowed Paperdì to grew internationally and to continue investing: now it's working with 5 interfolding lines.
"The technology of these machines is quite recent, unlike that for rolls – said Di Leva -. Interfolding towels have made great strides in recent years. OMET has been at the forefront in this segment: it has brought its know-how, stimulated the market, raised the bar, and today we can say that working on the interfolded product has become as competitive as on rolls".
Interfolded products are almost exclusively dedicated to the "professional sector", therefore workplaces, public places, bars, restaurants, hotels, but it's still little used at home because the GDO offers almost only roll products for kitchen, house cleaning or toilet paper.
"The domestic sector can be defined as "virgin" as regards the interfolded product – commented Di Leva – But we could reverse the question and say: why not? As it proved to be innovative and profitable in the professional sector, it will find space in the consumer sector as well".
Also very interesting were the thoughts raised by the journalist Armando Garosci regarding sustainability in the world of packaging. "Today we try to find alternative products to plastic – said Di Leva -. A great effort in this sense comes from the producers of packaging machines, with various proposals such as recyclable plastics, compostable plastics or paper. We are going through a moment of great evolution on this topic".
The episode dedicated to interfolded towels was published on September 16th 2021 and is visible for free on the OMET social channels and on the dedicated website (http://omet-tv.omet.com).
Watch again the interview with Vincenzo Di Leva – OMET TV, Episode 8
https://www.youtube.com/watch?v=1nSQ62tNl4g