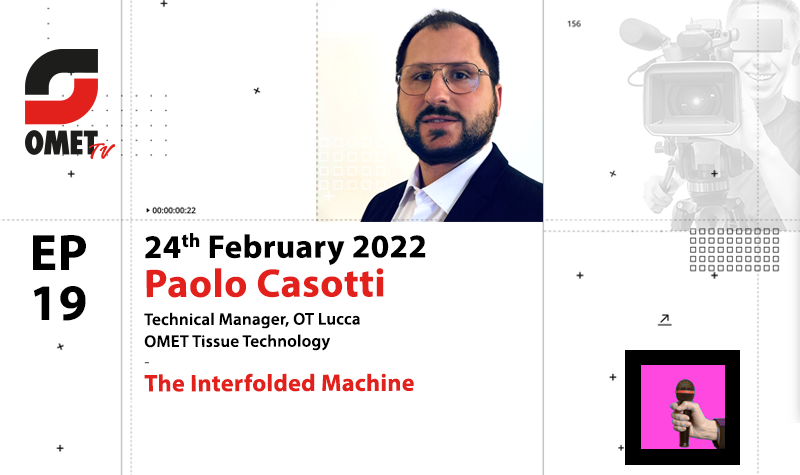 OMET TV presents the interfolding machines
Technology&Innovation
Thursday February 17th, 2022
The nineteenth episode of OMET TV web series will feature Paolo Casotti, Technical Manager of OT Lucca – OMET Tissue Technology, for a focus on automatic interfolding machines for paper towels, kitchen towels, facial tissue and toilet paper sheets. The episode will be visible starting from February 24th on the OMET social channels (Youtube, Linkedin and Facebook).
For some years OMET has expanded its range of tissue converting lines to interfolding machines, thanks to the new production site in Montecarlo di Lucca, OT Lucca – OMET Tissue Technology. The know-how acquired with this partnership originated the new ASV Line, automatic interfolding line for the production of interfolded towels, kitchen paper, facial tissue and toilet paper with a flexible and efficient production process. This high production machine is available in different configurations: in-line, mirror and 90 degrees and can be flexibly designed and configured according to the needs, with the addition of different functional units, such as unwinders, embossing units, lamination units, longitudinal cutting units and many others.
Thanks to the latest technologies implemented, the ASV Line is fully automatic, computerized and easy to use for operators, with a simple and intuitive interface. The ASV line ensures a very fast reel changeover resulting in a production optimization and a waste reduction.
In the next episode of OMET TV, visible from 5 pm on February 24, 2022, Paolo Casotti – Technical Manager of OT Lucca – will be interviewed by the conductor Armando Garosci about the technical characteristics and advantages offered by the next-generation interfolding lines.
Each episode of OMET TV focuses on a specific theme. A special guest will comment current topics and trends in the sectors in which OMET is considered an international leader: tissue converting machines and printing machines for labels and packaging.
OMET TV is a web series of 20 episodes created by OMET. Each episode contains an interview of 15-20 minutes, and is broadcasted every two weeks starting from June, 10th 2021. All episodes remain available for free after the publication on the social channels of OMET (YouTube, LinkedIn and Facebook), as well as on the dedicated website (http://omet-tv.omet.com)
Watch all OMET TV episodes here: http://omet-tv.omet.com