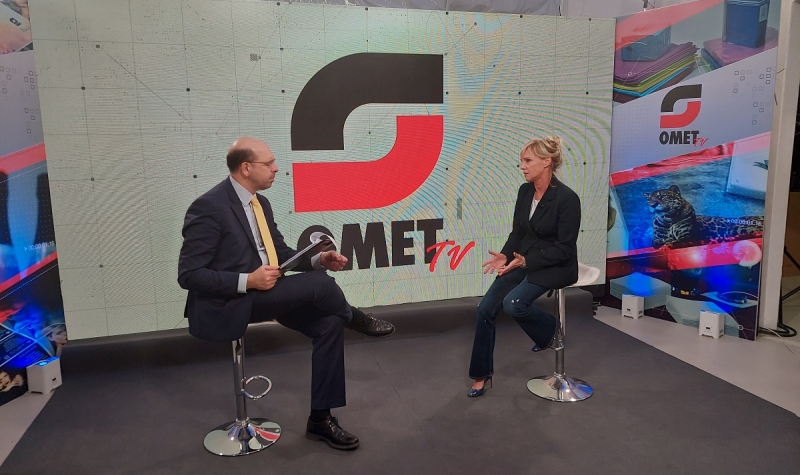 OMET TV: the importance of embossing in tissue
Technology&Innovation
Tuesday November 16th, 2021
"Embossing cylinder plays a fundamental role in tissue sector, both for the converting machine and for the finished product: it is the key for personalizing aesthetical and technical features of the finished products". The importance of this phase in the tissue production process is explained by Laura Della Torre, Managing Director of Simec Group, in the OMET TV interview disclosed last November 11th.
"Since the Eighties, embossing has always been growing, especially for the tissue sector where the product must be able to satisfy 5 fundamental parameters: volume of the paper, softness, absorbent properties, personalization and aesthetics, that attracts consumers from the shelves. Embossing is a key factor to meet all these requirements". Laura Della Torre, who talks about embossing in the twelfth episode of OMET TV, is the Managing Director of Simec Group, an Italian family-run company specialized in the production and engraving of anilox rolls for the flexographic printing market and embossing rolls for various sectors.
"Usually the figures used for embossing tissue products are standard patterns – said Laura Della Torre – sometimes engraving may slightly change but they remain more or less the same over the years. For special needs, we have a research and development team able to collaborate both with the manufacturer, to give a product well performing on the machines, and with the brand owner to satisfy its specific requests. We try to be an external consultant who mediates the performances with the expected result".
"Today we work on embossing cylinders with three methods: traditional mechanical engraving, laser engraving and combined process – concludes Della Torre -. The current trend in embossing is quality, even on a tactile level: the new trend is the "pillow" effect. The brand owner wants a soft product, so we work on engraving and on our machines performances to produce suitable rolls: it's a continuous innovation".
The twelfth episode of the web series conceived by OMET and conducted by Armando Garosci was published on 11 November 2021 and is visible for free on OMET social channels and on the dedicated website (http://omet-tv.omet.com).
Watch the interview with Laura Della Torre – OMET TV, Episode 12
https://youtu.be/e6dLSwIAQyE