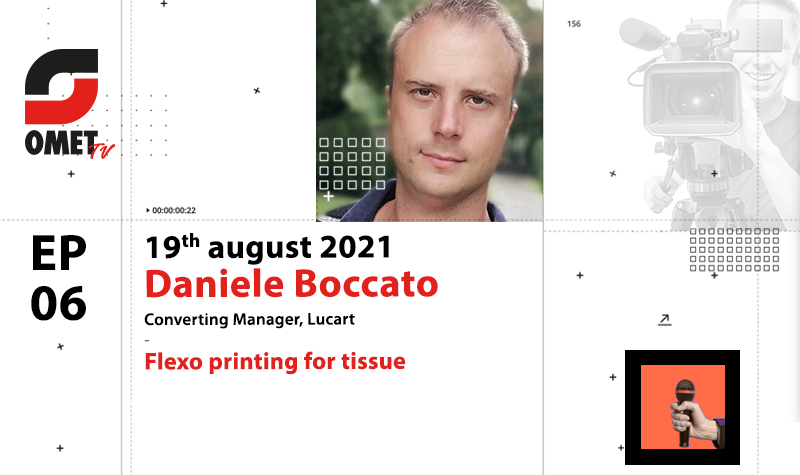 OMET TV, the 6th episode is coming: let's talk about flexo printing in the tissue industry
Technology&Innovation
Thursday August 12th, 2021
The upcoming episode of OMET TV will feature Daniele Boccato, Lucart Production Manager, and will be dedicated to flexo printing on napkins and other tissue disposable products. The 6th episode of the web series will be online starting from August 19th on OMET's social channels (Youtube, LinkedIn and Facebook).
Flexo technology, based on printing plates, is frequently adopted for flexible packaging and tissue paper products. Among its advantages there are quick job changeover and register set-up, efficiency, ease of use, reliability of results and great flexibility of materials (one or more plies, paper, non-woven fabric, dry laid).
The next episode of OMET TV, online from 5 pm on August, 19th 2021, will host Lucart Production Manager Daniele Boccato, who will talk about flexo printing in the tissue industry. Lucart Group is well known in the tissue industry for its commitment in the field of innovation, technology and sustainability. The company has stood out in recent years for its strategy in the framework of the Sustainable Development Agenda defined by the United Nations, and its commitment on plastic reduction and recycling projects. Lucart is a leading European multinational company with over 65 years of experience in the field of tissue, airlaid and glazed papers for flexible packaging, with over 1,600 employees and 10 production plants.
OMET TV is a web series of 20 episodes created by OMET. Each episode contains an interview of 15-20 minutes, and is broadcasted every two weeks starting from June, 10th 2021. All episodes remain available for free after the publication on the social channels of OMET (YouTube, LinkedIn and Facebook), as well as on the dedicated website (http://omet-tv.omet.com).
Each episode of OMET TV focuses on a specific theme. A special guest will comment current topics and trends in the sectors in which OMET is considered an international leader: tissue converting machines and printing machines for labels and packaging.
Watch all OMET TV episodes: http://omet-tv.omet.com