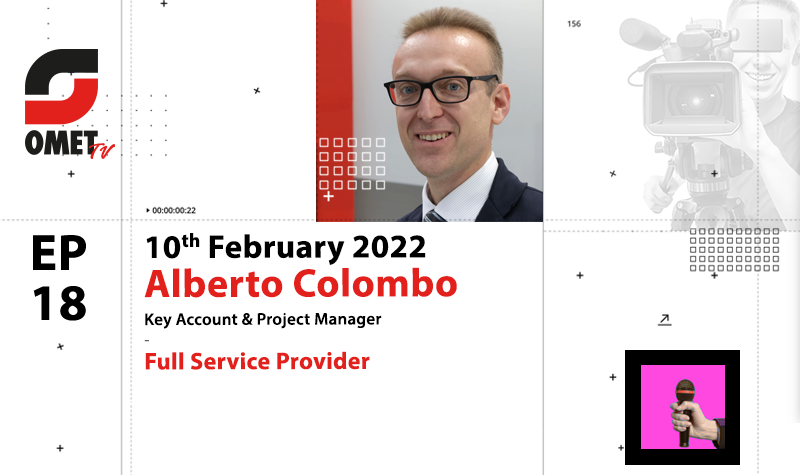 OMET Tissue: one single partner for the entire production process
Technology&Innovation
Thursday February 3rd, 2022
The next episode of OMET TV is dedicated to the "Full Service Provider" approach and will host Alberto Colombo, OMET Key Account and Project Manager. On February, 10th the eighteenth episode of OMET TV web series will be disclosed on OMET social channels (Youtube, LinkedIn and Facebook).
OMET's Tissue division is well known worldwide for the high technology and efficiency of its machines for napkins, towels and other disposable tissue and non-woven products. But the market evolution has brought further innovations: on one hand the launch of machines for new products, on the other hand a new business approach. Today, OMET offers itself as a "Full Service Provider", by gathering the needs of its customers and guiding them through the design, construction and production of the complete line from the reel to palletization. OMET has developed its own range of solutions for primary and secondary packaging that perfectly fit its production lines, but also offers customized solutions for automatic packaging and cartoning, in partnership with specialized and selected suppliers.
"Our company is evolving – explains Alberto Colombo, OMET Tissue Key Account and Project Manager, the guest of the 18th episode of OMET TV -. It became much more than a simple supplier, it's a specialist able to support customers step-by-step, from the initial choice of the project through the whole production process. The purpose is to guide clients in defining the cornerstones of their investment with the guarantee of OMET's technological know-how and experience, leaving them free to concentrate on their core business". This interview, dedicated to the "Full Service Provider", will be disclosed at 5 pm on February, 10th 2022.
OMET TV is a web series of 20 episodes created by OMET. Each episode contains an interview of 15-20 minutes, and is broadcasted every two weeks starting from June, 10th 2021. All episodes remain available for free after the publication on the social channels of OMET (YouTube, LinkedIn and Facebook), as well as on the dedicated website (http://omet-tv.omet.com)
Each episode of OMET TV focuses on a specific theme. A special guest will comment current topics and trends in the sectors in which OMET is considered an international leader: tissue converting machines and printing machines for labels and packaging.
Watch all the episodes of OMET TV: http://omet-tv.omet.com