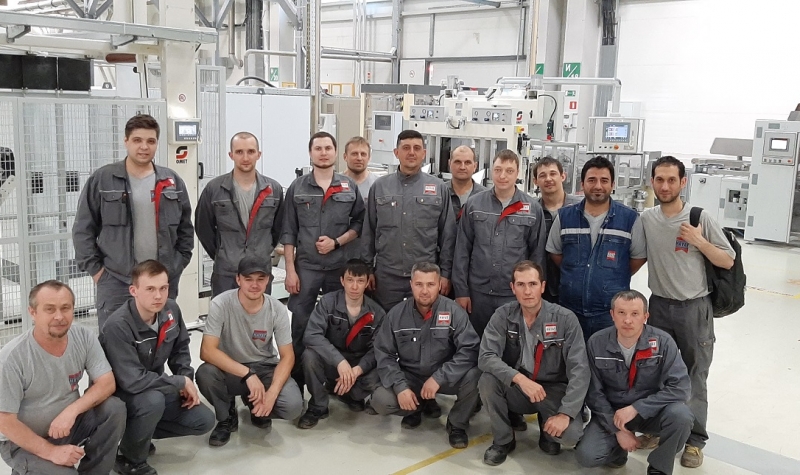 OMET remotely installs two TV840 Lines at Hayat customer's factory (Russian Federation)
Stories of excellence
Thursday June 11th, 2020
Thanks to OMET lines' modularity, ease-of-use, advanced connectivity and the new remote assistance system NOVA, remote installations are now possible for any OMET machine, which are conducted directly by the customer's technical staff.
During May 2020, despite being unable to send its own technicians onsite due to Covid-19 restrictions, OMET installed two TV840 Lines at Hayat customer in the Russian Federation.
These "remote" installations are enabled for all OMET Lines thanks to the new pre-assembly kit that only OMET machines can offer. This, combined with the usage of the new remote assistance software NOVA (New OMET Virtual Access) for the support and training during the setup, allows for the installation to be carried out directly by customer's technicians.
Hayat Kimya is a relevant international group with headquarters in Turkey. It is the world's fifth largest branded baby diapers manufacturer and the major manufacturer of tissue napkins and handkerchiefs in the Middle East, Eastern Europe and Africa. Own-brand products (Bingo, Test, Has, Molfix, Bebem, Molped, Joly, Evony, Papia, Familia, Teno and Focus) range from hygiene to domestic use and reach the houses of over 100 countries. Founded in 1937, Hayat Holding consists of 41 companies that operate in different sectors, such as the fast-moving consumer goods, harbor operations, construction, wood, with over 17.000 employees.
At its production plants in Turkey, Hayat has 10 OMET converting lines and throughout 2019 ordered the first two TV840 Lines for its production facilities in Yelabuga – Tatarstan (Russian Federation), 1.000 km east from Moscow.
Even though Hayat's Russian technicians had never seen an OMET machine, a short training was enough to make the customer independent with the startup of the two lines. This is an indicator of the ease-of-use of OMET machines, despite the complex configuration (double line with non-stop unwinder).
It was impossible to foresee the Covid-19 travel restriction during the machine acceptance period, but since the machines were already manufactured with highly efficient concepts of modularity, this made the assembly by customer's technicians easy and understandable. Actually, the machines leave OMET's plant ready to be put into production, there are no other actions to take after the installation.
"All OMET machines – claimed Fail Galiev, head of production of Hayat Russian plant – are already equipped with advanced connectivity systems that, besides the functionality of a traditional remote assistance, allow also a complete monitoring of the line, of its components and of all the necessary interconnections. During the assembly stage, despite the lockdown restrictions, OMET staff had an efficient IT infrastructure that allowed them to work alongside us as if they were in OMET or even near the production line".