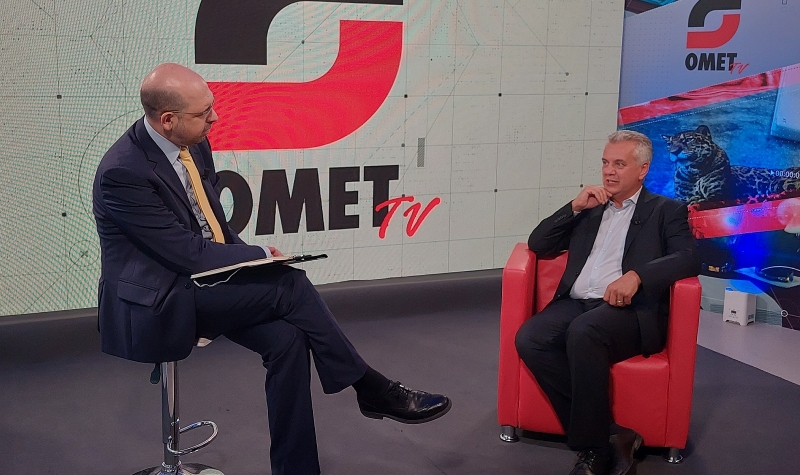 OMET world leader in technology for folded products
Technology&Innovation
Tuesday October 19th, 2021
"Napkins are not just disposable products, they're also means of communication. OMET's cutting-edge machines are designed to ensure both high productivity, very important for products of low value like these, and maximum customization with various applications, for those who have advertising purposes". Marco Calcagni, OMET Sales & Marketing Director, spoke about OMET's history and its technological innovation in folded products in the last episode of OMET TV web series.
The tenth episode of OMET TV talks about OMET and its predisposition to continuous innovation, feature that allowed the extraordinary growth of this family company. The interview focused on the Tissue division, in particular on the folded sector: "We started with napkin machines – Calcagni tells to Armando Garosci – but in recent years we have invested a lot in folding technology: our ambition is to become the leader in the production of machines for this sector".
"We have always listened to customers, and thanks to them we find always new insights to design future machines – continues Calcagni -. Their primary goals are efficiency, waste reduction and cost savings. Looking at these needs, OMET has just developed a new high production line, the XV Line, which allows a productivity up to 25,000 pieces per minute, instead of the 5,000 or 10,000 pieces per minute of the most advanced machines currently on the market".
Machines for napkins and other tissue paper products are highly stressed: some of them reach 900 m/min speed and work 24 hours a day; they must never stop because it would mean blocking the entire production chain. "Keeping this in mind, we have developed various services to support our customers – explained Calcagni -. Thanks to new technologies and augmented reality, for example, we can monitor all machines remotely and therefore provide a continuous and complete assistance, 24 hours a day, 7 days a week, worldwide".
"In the future, I see the development of an interconnected factory – concludes Calcagni – where manufacturers works in close contact with us and with customers, subcontractors or internal suppliers. This will happen above all for products like those of the tissue sector, with low margins and fast rotation: they have to be immediately available for the GDO, that doesn't want to stock them in warehouses. The interconnection between customer, companies and suppliers through industry 4.0 technologies allows higher efficiency, that's why it's the future in my opinion".
The episode dedicated to technological innovation in folded products was published on October 14, 2021 and is visible for free on OMET social channels and on the dedicated website (http://omet-tv.omet.com).
Watch again the interview with Marco Calcagni – OMET TV, Episode 10
https://www.youtube.com/watch?v=vNahl3X8qII