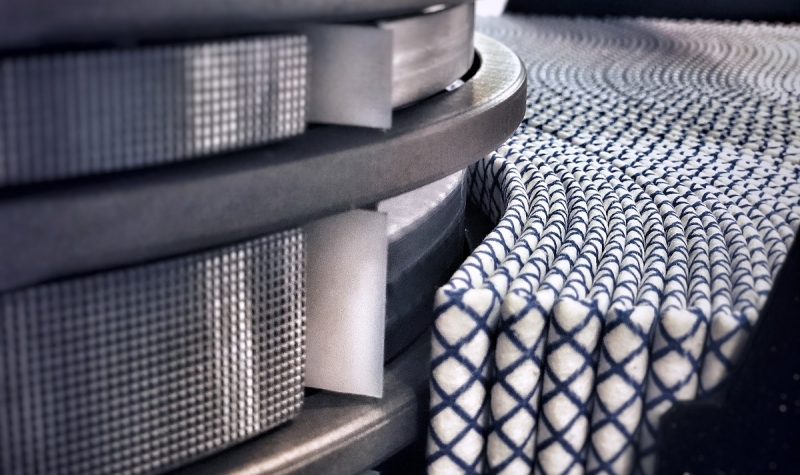 New disposable products with OMET TV503 Line
Technology&Innovation
Friday April 30th, 2021
Thanks to its modularity, OMET TV503 Line is able to process any type of non-woven material and to manufacture different products with high performances and in a reliable way. These products can have different dimensions, can be neutral/printed or with rubbed lotions. Usage of non-woven disposable products, such as dust-catching cloths for domestic cleaning, for hygiene, for barbers and beauty salons is certainly destined to increase in the short/mid-term. OMET is ready for this revolution with its TV503, which allows a perfect manufacturing of this material with exceptional production performance, thanks to a non-woven kit.
NON-WOVEN PRODUCTS
The usage of non-woven disposable products for the cleaning is growing steadily also because they guarantee hygiene, safety and time saving. OMET TV503 Line is not only able to process non-woven materials in an easy and regular way, but enables also inline printing (with digital inkjet technology as well) for products' customization and allows to rub lotions or scents during the transformation process directly on the material. OMET machines can manufacture several products, for example: cloths for hairdresser, sheets for barber, colour-catching cloths, dust-catching cloths, napkins, handyman cloths, cloths for floors, disposable masks, sheets for medical use, mats and much more.
OMET lines have been developed to assist the producers in an easy and rapid change-over on the same machine, drastically decreasing machine stops. This allows the producers to be very flexible and to offer their customers a wide range of products. Thanks to the technical and R&D department, OMET is able to adapt the machine to any need.
DISPOSABLE MASKS
Some OMET tissue napkins converting machines adapted for the production of disposable masks are already producing in some customers' factories. OMET can provide its TV503 Line already configured for this production with short-term deliveries.
OMET doesn't stop: it's at the forefront of the emergency that is affecting the entire planet, by offering a concrete help to the growing demand of masks. OMET TV503 production line, already used by some customers, can produce up to 1000 masks per minute thanks to its reliability and performances. These masks are extremely comfortable and simply to use.
FOLDED TABLECLOTH
OMET TV503 Lines can produce folded tablecloths and "table sets" (tablecloth and napkin) on the same machine. This line can produce tablecloths up to 1500×1300 mm (59" x 51") and both napkins and tablecloths in various materials such as paper, non-woven or laminated paper and plastic. In addition, napkins and tablecloths can be printed in flexo and/or digital technology, and laminated in the same inline process.
DUST CATCHING CLOTHS and MICROFIBER CLOTHS
The TV503 Line is the most versatile and flexible modular solution on the market. Thanks to its high performances and production capabilities, OMET TV503 Line can process different types of materials in addition to the classic fabrics, for example 500×400 mm dust catching cloths with a 0,4 mm material thickness. This product provides excellent cleaning results by catching dust and protecting surfaces. Another example is the 500 x 400 mm floor cleaning cloth made of 1,6 mm thick microfiber. This product assures excellent cleaning results thanks to higher adsorptive properties than other materials, it can be also reused several times and maintains a perfect result.
COCKTAIL NAPKINS
Thanks to its flexible structure, the OMET TV503 production line can also be configured to produce 100×100 mm size cocktail napkins or coasters.
The interchangeability of the folding head enables an easy production switch between standard napkins, cocktail napkins and napkins of different sizes.
NAPKINS WITH CUTLERY POCKET
The OMET TV503 Line also realizes 1/8 folded napkins with cutlery pocket.
These napkins perform a double function of cutlery holder and napkin, offering at the same time a practical and innovative design. Available in different sizes and different materials.
DENTAL BIBS
Thanks to its versatility, OMET TV503 Line is able to produce disposable dental bibs. Characterized by high absorbency, these products are manufactured by coupling of absorbent material and plastic material. They are available in different sizes according to production needs.
PLACEMATS
OMET TV503 Line can be configured with a special kit for the production of placemats. Thanks to a special device for automatic separation, placemats leave the machine in counted stacks automatically transferable to the packaging machine. High speed of cutting and stacking optimizes the process and increases the productivity.
BARBER CLOTHS
OMET TV503 Line, configured with an XL folding head, is also suitable for the production of disposable barber cloths up to 700 mm width. There is a blade cooling system on the line. The machine can reach a production up to 600 pieces per minute and an automatic transfer with heavy products belts completes the configuration.
CUSTOMIZED NAPKINS
OMET TV503 Line and MF Line can be equipped with Chameleon digital printing system for the customization of tissue and non-woven products. Chameleon is the perfect solution for short and medium runs of printed napkins, placemats or other folded products: they can be printed one different from the other in the same pack.