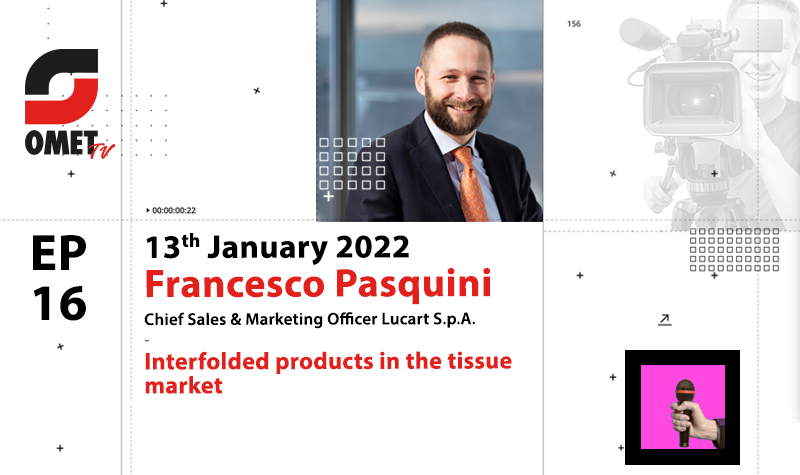 Interfolded products in the tissue market: Francesco Pasquini at OMET TV
Technology&Innovation
Friday January 7th, 2022
The next episode of OMET TV, dedicated to the tissue market and in particular to interfolded products, will feature Francesco Pasquini, Lucart's Sales & Marketing Director. From January 13th, the 16th episode of the OMET TV web series will be online on the OMET social channels (Youtube, LinkedIn and Facebook).
Lucart Group is a multinational company with more than 65 years of history, 10 production plants and a production capacity of over 395,000 tons per year of tissue products. In Italy, Lucart exceeds 360 million in turnover, reaching around 515 million with more than 1,600 employees at a consolidated group level.
"Lucart's story starts from afar, is full of passion and always looks at the future. It's a successful family and business story based on tradition, experience and quality, but open to innovation. Every day more". This way Francesco Pasquini, Marketing and Sales Director, describes Lucart. He is the guest of the sixteenth episode of OMET TV. This episode opens to the numerous innovations of the tissue market, with particular focus on interfolded products. It will be visible starting from 5 pm on January 13th 2021.
The web series created by OMET is made up of 20 episodes of 15-20 minutes each, broadcast every two weeks starting from 10 June 2021. From the day of publication, the episodes remain available for free to everyone on OMET's social channels (YouTube, LinkedIn and Facebook) and the dedicated website (http://omet-tv.omet.com ).
Each episode of OMET TV is dedicated to a specific theme and has a special guest with whom to discuss current topics and trends in the sectors in which OMET is considered an international leader: tissue converting machines and printing machines for labels and packaging.
Review all the episodes of OMET TV: http://omet-tv.omet.com