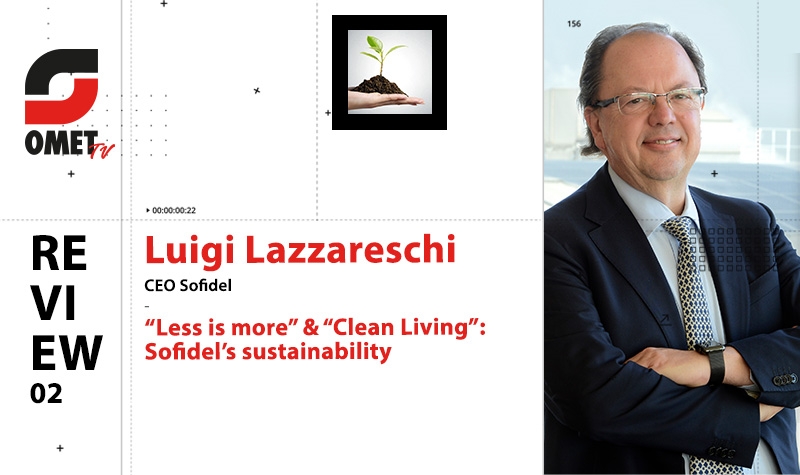 "Less is more" and "Clean Living": Sofidel's sustainability told by Luigi Lazzareschi to OMET TV
Technology&Innovation
Tuesday June 29th, 2021
"Less is more" means improving product performances to reduce waste, and removing all the unnecessary from the production cycle, all that doesn't give service or content. What drives the consumers' choices? We pointed out "clean living" in our purpose". Luigi Lazzareschi, Sofidel's CEO interviewed by Armando Garosci in the second episode of OMET TV, talks about sustainability and the evolution of packaging in the tissue market.
Focus green for OMET TV's second episode, broadcasted on OMET social channels (YouTube, Facebook, LinkedIn) on June 24, 2021. The episode is dedicated to sustainability, thanks to the virtuous experience of Sofidel, renowned in particular for the Regina brand, which for years has combined investments on sustainability, both in production process and in packaging, gaining an exponential growth in terms of turnover, number of employees and production volumes.
The web series conceived by OMET and presented by Armando Garosci, editor in chief of the Largo Consumo magazine, has Luigi Lazzareschi, CEO of Sofidel, as the guest of the second episode. The interview, available for free on OMET social channels and on the dedicated website (http://omet-tv.omet.com), had a considerable number of followers and is bringing a lot of interest to the addressed contents.
"We begun to get serious with the "less is more" approach since the invention of Rotolone Regina in 1992: why sell so much air, so much packaging? Why waste in transport costs, when you can concentrate the same quantity of paper in 4 rolls instead of 10, and offer even a better product to the market? From there we went on. Today, 'Less is more' for us means continuously improving product performances. And it also means removing all that the unnecessary from the other parts of the company".
In the interview, Lazzareschi, beyond explaining the "less is more" approach, exposed the Sofidel Decalogue of Sustainability (which identifies the ten medium-long term goals expected from its commitment to sustainability) and spoke of the new Sofidel purpose: "Clean Living".
"We asked ourselves the reasons why millennials buy from a company – said Lazzareschi -. What are their motivations? We have explained it with our purpose 'Clean Living'. Our products deals with hygiene, cleanliness and health, especially in a post-pandemic period like the current one. We also want to produce in a clean, sustainable, less impactful way. 'Clean Living' also concerns the safety and integrity of workers, especially in our company. Today the concept of "Clean Living" goes very well with that of 'Less is More'. "
Each episode of OMET TV, broadcasted every 2 weeks, focuses on a specific theme. A special guest will comment current topics and trends in the sectors in which OMET is considered an international leader: tissue converting machines and printing machines for labels and packaging.
🎥Watch the interview with Luigi Lazzareschi – OMET TV, Episode 2