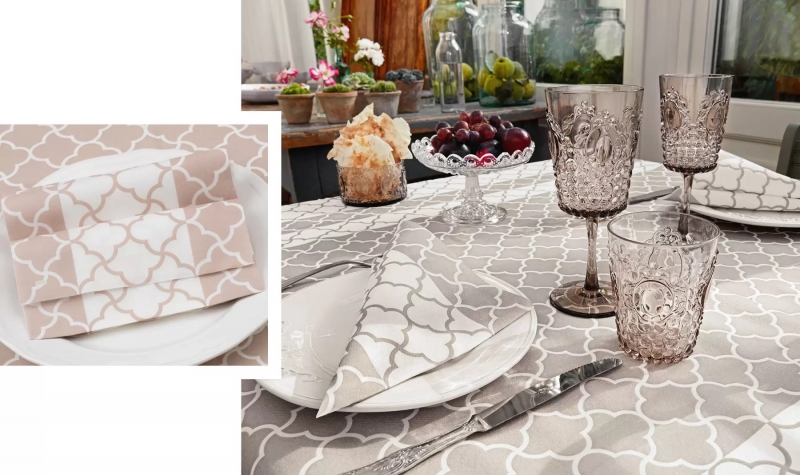 Printed napkins become a means of communication: Boccato speaks to OMET TV
Technology&Innovation
Tuesday August 24th, 2021
Daniele Boccato, Converting Manager of Lucart, was the guest of the sixth episode of OMET TV: "Printed napkins are increasingly used as a means of communication rather than being a way to satisfy customers' particular needs: for example for daily menu or event leaflets".
Disposable paper products such as napkins and placemats can be decorated and printed to make the table more lively and colorful. Since the 1980s, printed and personalized napkins has been produced with a series of flexographic printing units, one for each color, positioned along the production line of folding machines. Depending on the complexity of the image to be printed, the number of printing units varies from 1/2 for simple decorations, up to 6/8 colors for high quality prints.
"Lucart's production capacity at the Torre di Mosto (Venice) factory is about 6.000 tons per year – said Daniele Boccato, Lucart's Converting Manager, to OMET TV. The market requires increasingly flexible machines able of handling different production batches. Today, thanks to this flexibility, we can supply even just a few boxes for each batch".
In the Ho.re.ca. sector, paper is used for table decoration, to communicate the personality and identity of the place, as for the consumer who wants to give personality to his home. Flexographic printing on tissue offers a wide range of customization possibilities for napkins, tablecloths and cutlery bags.
"Flexo has always been the faster and most efficient way of printing" explained Boccato in the sixth episode of the web series conceived by OMET and conducted by Armando Garosci.
The episode, dedicated to flexo printing on tissue products, was published on 19 August 2021 and is visible for free on OMET social channels and on the dedicated website (http://omet-tv.omet.com).
Watch the interview with Daniele Boccato – OMET TV, Episode 6