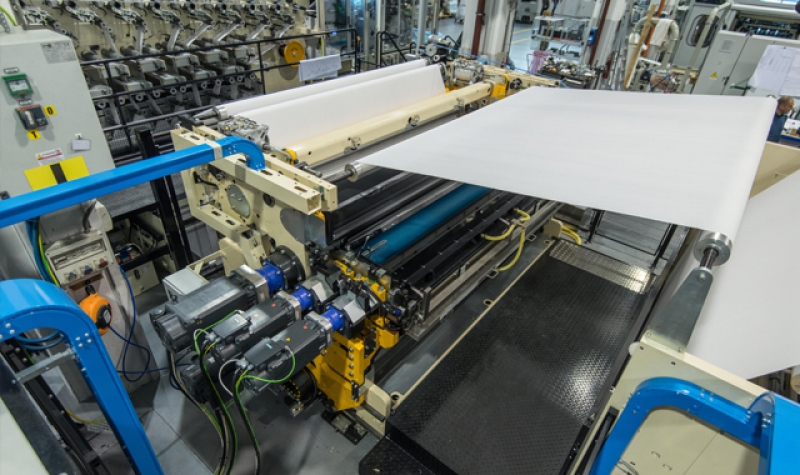 Heading towards Industry 4.0: OMET and Siemens in a close collaboration
Technology&Innovation
Wednesday June 28th, 2017
The evolution towards Industry 4.0 requires constant networking and collaboration with top suppliers like Siemens, important multinational Company boasting a 165-year excellence in technology, innovation, quality, reliability and international presence. OMET relies on their experience for the automation of its tissue converting lines, recently extending the collaboration from Plc and interfaces supply (provided by Siemens since the 90's) to the integration of strategic components like motors and electric drives, opening the way to innovative projects.
Giacomo Corti, electronic R&D manager of OMET Tissue division, explains: "In 2014 we renewed an AS line for paper towel production, equipping it with Siemens automation. Then we did the same operation on a TV 840 XP line dedicated to printed napkins production: a complete upgrade fully motorized with Siemens drives. All the machines that features this kind of technology are considered one step ahead towards Industry 4.0: web connection, remote management, production control and consumption check-up are the key to a fully traceable process".
The market demands self-managed products, more and more precise and reliable, and Siemens Simotion system provides an answer to these necessities, assuring performance and precision with products uniformity and higher working integrity. Siemens is a valid international partner to work and develop new projects on a global scale: their portfolio is in constant evolution and can satisfy every request.
Mr. Corti continues: "Not only do they offer state-of-the-art components that assure an easier machine assembly and higher safety for the operator, but also deep knowledge and extended competence: their technical support assists us for specific check-ups, hi-tech products application and the choice of components. This collaboration benefits both parties: for example, OMET sold a machine equipped exclusively with Siemens products. We also modified our bulk transfer unit, mounting new motors with integrated Sinamics S120M drives".
With Siemens automation OMET produced also an FV6, which will be powered up in the USA shortly, and three GN100 purchased by one of the most important Brazilian converters in the field of hygiene and household products.
Globalization, time-to-market reduction, higher flexibility and competitiveness: these are just some of the new challenges that machines manufacturers need to face with specific strategies, completely different from the past. This is the main reason of the collaboration between OMET and Siemens, with the purpose of reducing the time of production, improving quality flexibility and efficiency and elevating machines' safety standards.
Flavio Marlati, Siemens Italia Area Manager, states: "the great team building, our know-how and expertise allow us to support the customer during all the phases of the production, with innovative and integrated solutions, in order to guarantee the maximum productive efficiency and competitive advantage. At this point, we are almost ready to realize simulations and virtual commissioning systems to increase the performance of the machine".
This fruitful collaboration between Siemens and OMET represents a perfect example of Industry 4.0 principles implementation.