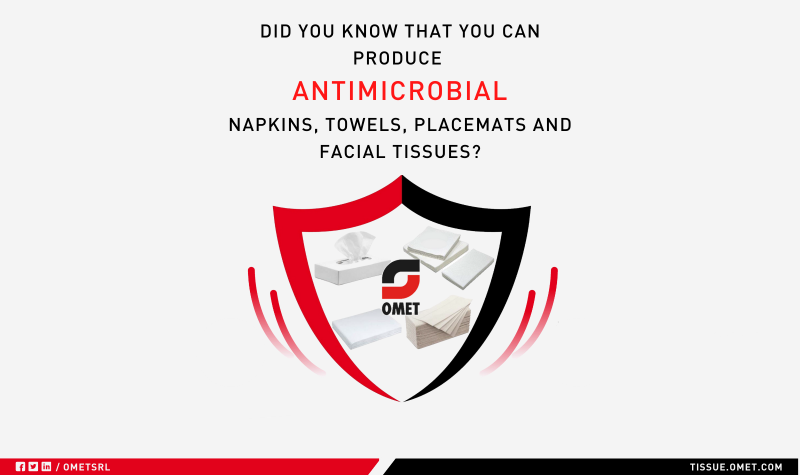 OMET presents another innovation: antimicrobial napkins are arriving!
Technology&Innovation
Friday April 9th, 2021
Minimum product degradation, discoloration, staining or odors for napkins produced by OMET machines, thanks to an innovative solution that inhibits the growth of unwanted microbes. The latest investments in OMET research and innovation have led to the development of an integrated solution allowing the production of antimicrobial napkins and tablecloths, supported by laboratory tests.
The new application entirely developed by OMET allows the production of napkins, placemats as well as antimicrobial towels thanks to the addition of an antimicrobial additive that continually reduces microbial growth without altering the performance in terms of absorption and softness.
The treatment is applicable to any polymer, fabric or paper and has no harmful effects since it is based on the use of silver ions. This technology remains active throughout the entire life of the napkin preventing the microbes from growing and multiplying as this may cause product degradation, possible color loss as well as the appearance of spots or unpleasant odors.
Therefore, the OMET solution, fully integrated into the converting line, guarantees durable product protection, preventing the growth of different types of microbes, including various fungi and mold. It is suitable for all types of tissue products (interleaved and not: napkins, placemats, towels, facial tissue and so on).
The solution is already available for the market and is also applicable to OMET machines already installed.
Antimicrobial technology does not protect the user or others against disease causing organisms and is not a substitute for good hygiene and/or cleaning practices.
For more information you can contact OMET directly using the email comm@omet.it; for USA/Canada write to sales@ometamericasinc.com.