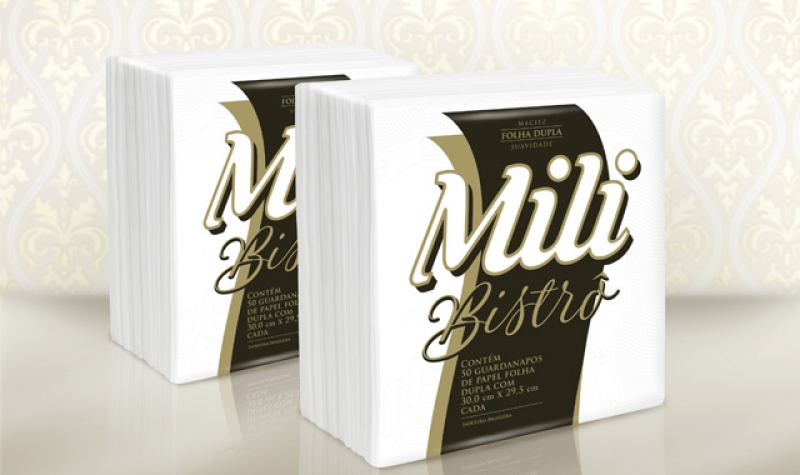 Mili orders the third and fourth OMET line for napkins
Stories of excellence
Thursday February 16th, 2017
Mili Tissue in Brazil is a true wonder: continued growth from 1983 to the present, with high regard to environmental impact and to the happiness of the consumer.
One of Brazil's largest manufacturers in the field of hygiene and cleanliness, a true industrial giant that grows from year to year, exponentially increasing production volumes, with production facilities as large as an entire town. Mili is the market leader in Brazil for various types of products, among which toilet paper rolls, paper napkins, sanitary towels for intimate hygiene and baby diapers, up to several products for cleaning the home.
Founded in 1983 in Três Barras, a town located 170 kilometres from Curitiba, the little toilet paper rolls factory grew and developed during the eighties. In the nineties it diversified its product range by launching the production of napkins (1992), sanitary towels (1994), diapers and disposable towels (1998,) ending with opening two more production sites in Curitiba (1991) and Maceiò (2008).
Mili was the first company in Brazil to produce toilet paper in 60 metre rolls (2003) and two-ply (2008), also offering the market adult diapers in 2011.
Since 2001, Mili has established a distribution centre in Curitiba, positioning itself strategically and mainly on the increasing large-scale retail market: rapid and precise delivery of the products to all sale points, regardless of distance and location, has allowed Mili's consumer products to penetrate the entire national market reaching more and more consumers.
Today in the industrial complex of Tres Barras (Santa Caterina), production site of napkins, paper towels, rolls of single and two-ply toilet paper, there is great attention to environmental impact, which results in recycling more than 10,000 tons of paper per month (the largest health recycler in Brazil). This value translates into preserving an amount of wood per month that is equivalent to a surface area of 36 soccer pitches!
Thanks to extensive research in the field, today Mili is able to reduce the production of waste by 80% and to use less than half the water compared to normal standards for the production of paper (8 litres of water per kg of paper compared to 15-20 litres normally used). Mili also has painstakingly designed a water treatment system that not only meets standard law requirements, but allows the water to be recycled.
At its headquarters in Curitiba (Paranà) baby diapers, sanitary napkins for adults and for personal hygiene are also produced. Quality control is a continuous process in Mili' plants, starting from receipt of raw materials and only ends with the end consumer's approval.
As proof of the excellent results achieved by Mili, at the beginning of 2016, for the fourth consecutive year, the Brazilian company received the prestigious Abras award (Brazilian Association of supermarkets) which rewards the best-selling brands in Brazil, according to sales research conducted by Nielsen.
Mili's attention to market demands has pushed the company to make large, long-term investments in recent years, with the expansion of its production lines and range of products.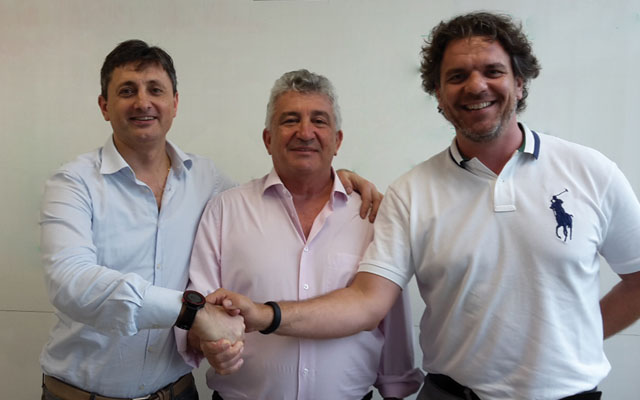 In the photo, Alberto Redaelli, Valdemar Lissoni (Mili President) and Daniel Signori (Industry Director)
The collaboration between OMET and Mili began in 2014 with the Brazilian company purchasing an OMET GN100 line, i.e. a complete TV840 line including packing system, for the production of packaged napkins. The results obtained with OMET machine met Mili's expectations, enough to buy a new GN100 line immediately after the initial installation and to recently finalize the order of two other GN100 lines expected for the beginning of 2017.
Thanks to the quality and reliability of OMET machines, Mili has recently launched a new line of premium, two-ply napkins "Mili Bistro'", to meet the growing demand of the Brazilian market for higher quality consumer products, which result in greater softness, smoothness and absorption capacity.